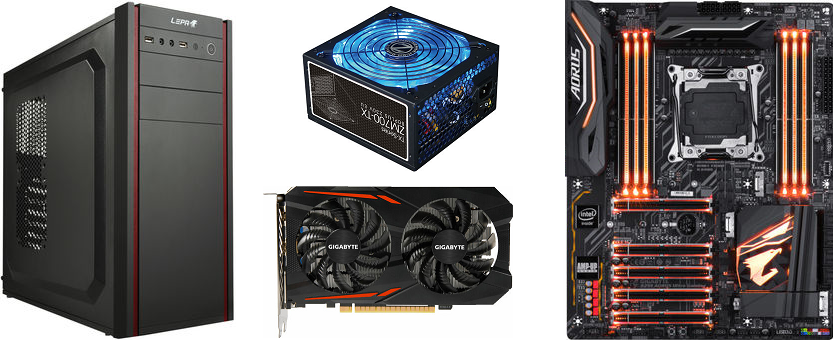 Desktop computer repair
If you are looking for experienced and reliable professionals to outsource your desktop PC repair, you are in the shortest place! One of the core specializations of ITKATRAM computer repair service is desktop computer repair.
We will diagnose your desktop computer within 1-3 days and as soon as the diagnosis is complete, we will call you to tell you the diagnostic results, the cost of repairs and how long your computer will be repaired.
Thanks to our many years of operating experience and the qualifications and expertise of computer repair technicians, we will accurately diagnose the problem and determine the time needed to complete the repair! In addition, if you choose to repair your computer with us, diagnostics will be free!
If, for any reason, you decide that it is not worth the computer repair, the cost for your computer diagnostics and our time to diagnose the problem will be 20.00 EUR.
Desktop computer repairs, as well as other computer hardware repairs, are done locally at our computer repair service in Riga, as we have all the tools, equipment and technicians we need to provide high quality and complete computer repairs at our service.
Customers trust ITKATRAM service because we have proven ourselves over the years. We also provide services to companies, please see the ITINDUSTRY website for companies.
| | |
| --- | --- |
| Services with quality and warranty | EUR |
| Diagnostics (diagnostics are not included in the case of repair) | 20.00 |
| PC Cleanup | 35.00 |
| System Cleanup | 30.00 |
| System and physical Cleanup | 50.00 |
| Installing OS Drivers | 15.00 |
| Virus removal | starting from 20.00 |
| Data transfer | 15.00 |
| Component change (RAM, HDD / SSD / ODD, fan, video, sound, network card) | starting from 10.00 |
| Component replacement (motherboard, power supply, housing) | starting from 20.00 |
| Sockets USB, internet, audio, repair | 30.00 |
| Sockets – charging – repair starting from | starting from 30.00 |
| Motherboard repair | starting from 25.00 |
| Power supply repair | starting from 15.00 |
Welcome to our service center in Riga, Zaļjā iela 10

WORKING HOURS
Mon – Fri 9am to 7pm
Saturday and Sunday – Days off
What are the most common symptoms of problems with desktops?
Computers are an integral part of modern life, but sometimes they also cause unpleasant surprises when something is not working. If you have a problem with your desktop PC, bring your PC to ITKATRAM Computer Repair Service and we will get your PC up and running in no time, so you can keep up with your work, training or entertainment with the PC, without having to wait too long.
Death screen – A blue screen appears when you start your computer
Strange sound – it often happens that your computer needs maintenance because of dust or fun is demaged
The desktop computer suddenly restarts or shuts down
The desktop computer gets very hot
The desktop computer cannot be turned on
Damaged hard drive
Missing DLLs, DLLs are Windows operating system files that are essential to the normal operation of the OS
Error loading operating system – "Error Loading Operating System"
The desktop computer does not use all the RAM memory
The connected peripherals (printer, scanner, etc.) do not communicate with the desktop computer